As a Creative Community
We are exuberant, spiritual, playful, raucous, serious, centered, intense, brave, feral, explorers. We are creative, compassionate, introverts and extroverts, truth-seekers and truth-sayers, badasses with good taste. We're moody, needy, high-maintenance noise-makers; nature and animal lovers, tree-huggers, cooks, painters, gardeners, singer-songwriters, dancers, Reiki masters, body workers, therapists and world travelers. We are mothers, grandmothers, daughters, sons that used to be daughters, sisters, sexpots, crackpots and former addicts. We meditate, we write and we're not even all writers.
We're also so much more which is why we invite you to join us. You'll belong.
Co-Founder and Creative Heartbeat
Witty, heartbreaking, and searingly true, Dulcie's flair is as unique as she is. Trained as a therapist, Dulcie has been in private practice as a therapist in Maine for the past twenty-five years. Dulcie also started writing young; self-illustrated poems about snow monkeys and dead people. They came back to haunt her many years later, and she earned her MFA from Goddard College in Creative Writing and certification as a Gateless Writing Teacher.
Dulcie is a founding editor of Minerva Rising and has had work published in The Pitkin Review, Rawboned and elsewhere. She teaches creative writing in Eindhoven, Netherlands with Watershed at their summer program, Camp Cushy. She completed a novel, Crooked Love, and is currently working on a professional memoir, Confessions of a Therapist. She believes sharing creative space gives power to the connections that fuel the creative process – giving life to something that wasn't there before.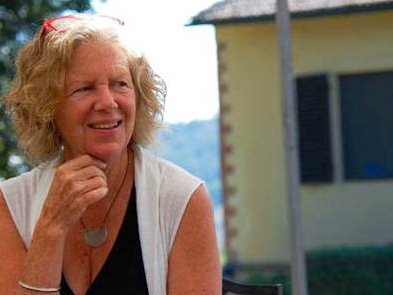 Writing Facilitator & Yoga Teacher
Being in Nancy's yoga class is not unlike listening to her read something she just wrote – feeling alive with the ocean, wind and hardscrabble earth, and, at the same time, what it is to be human, right here, right now. Nancy is a writer of songs, poetry, essays, creative nonfiction, and now with a full-length fiction manuscript, I See My Light Come Shining, in consideration for publication. She's had work published in The Sun, Minerva Rising, and in the compilation, Maine Voices.
Nancy has been a practicing psychotherapist for more than thirty years, earning her PhD from Columbia University. She's studied mindfulness, body-mind integrative practices and EMDR. She's fascinated by how new discoveries in the science of psychology weave together with ancient Eastern wisdom to inform our journeys to health. Her yoga practice of over twenty years led her to become a teacher of yoga. For Nancy, every word matters, and yet the word is not the path – nothing matters more than phosphorescence and prayer.
Instructor, Writer & Creativity Sorceress
Nikki adores the conjuring process, watching magic happen from just a few simple words or phrases, enchanted by the different ways stories manifest for each writer. Her love for writing led her first to a career as an award-winning newspaper and magazine journalist that took her from Wisconsin to Maine and California and back. On weekends she worked on her novels, and her creative writing eventually drew her to Goddard College where she completed an MFA, focusing on post-apocalyptic fiction. Her creative work has appeared in several lit journals including Minerva Rising, Rawboned and Midwestern Gothic.

She is the winner of the 2014 Mill Prize for Fiction and the 2015 Wisconsin People and Ideas fiction prize from the Wisconsin Academy of Sciences, Arts & Letters. Her passion is constructing authentic worlds, whether they're set in a backyard or outer space.
Business & Logistics Wrangler
Pam's creative self first whispered to her during a writing class in high school, emerging occasionally during her corporate life in the form of business proposals. Retirement – and the transformational WOW experience – has given Pam's creative voice new volume, and she's listening.
Travel has enabled Pam to hear creative voices from other places. Whether living on her own in Slovakia or heading out on safari in East Africa, Pam has asked fundamental questions to better understand the human experience – how does tradition, history and experience shape culture? What makes people happy? The answers have shaped Pam's perspective in life and in writing. Now she wants to share the magic of travel, inspiration and setting provided by WOW retreats with other writers. When at home in Dallas, Texas she loves to spend time with friends and family and is always in search of the best new patio in town for Friday night happy hour. Most days, however, she finds her zen by writing in her custom-built she-shack.
Marketing & Communications Guru
Born and raised in Morgantown, West Virginia, Frances grew up with parents who were researchers in Africa (and took her along now and then). Those early adventures helped solidify a lifelong appreciation for all things international, especially travel. Living in a globally minded household gave her a deeper world perspective right at her dining room table, when her parents would invite visiting international guests to share Thanksgiving dinners. Her first study abroad trip to México fueled her passion for sharing international adventures, leading her to take student groups to Ecuador, Italy, Mexico and the United Kingdom.
Since joining the Wide Open Writing team, the world of creative writing has opened up a new perspective for Frances, who used to mainly write business plans. Now she writes about her own story, too. When she's not traveling or writing, she is likely either at a local Reno pub or hiking in the Sierras.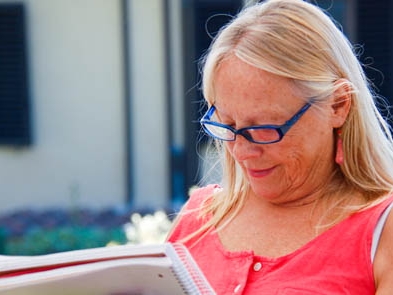 Massage Therapist, Energy Mover & Chef
May your heart be filled with loving kindness. May you be well in body and mind. This is the beginning of a prayer Jo silently invokes over every person she meets through massage. Jo sees the body as a landscape, each an environment inhabited by an exquisitely defined individual consciousness, acting as a fellow sojourner and guide to navigate blocks and barriers, freeing the flow of creative energy.
Jo trained at The Swedish Institute and lived and worked at Omega Institute for three years. While at Omega, Jo studied with a wide range of practitioners and healers from all over the world. She now practices in her home office by the scenic Androscoggin River in Topsham, Maine.
Energy Psychotherapist & Creativity Channeler
Troi was first introduced to holistic health practices while earning her master's degree from New Mexico State University in 1997. Since then, Troi has used energy psychology, psychotherapeutic Reiki, and mindfulness to complement more traditional "talk therapy" to help people connect to themselves in a deep way. Troi believes we all have purpose and talent to share. Energy work is particularly helpful in removing barriers to an awareness of a person's truths and unique gifts, dissolving obstacles that can thwart efforts to express a client's highest potential.
Writing is one of many ways to open and express our creative process, where pain and desire and fear and shame and vulnerability and love and anger and bliss can come through. Energy work is her way of making space for all that arises within us and help writers to explore, to release, to heal and put it all back together with greater insight and deep compassion.
Actress, singer, dancer, writer, yoga teacher, and Thai massage therapist.
Vanessa approaches teaching movement and meditation the same way she approaches life: with a joyful, childlike enthusiasm. A Yogaworks certified instructor, she enjoys sharing her love of the practice with students of all ages and experience levels. With a background in theater and dance, Vanessa honors her creative impulses and weaves in a sense of play to every class.

Vanessa studied Thai Massage in Lahu Village, in Northern Thailand. She is thrilled to be able to share this healing art with her yoga students…but let's face it, mostly with her family members because "it hurts when I do this, Vaness, can you help?" Yes. Happily.
Online PR and Content Writer
Eline's great grandfather founded a truck company. Which led to a great percentage of male members of her family (on her father's side) working as truck drivers (including her own father). This abundance of truck drivers made Eline wonder if there's such a thing as choice. To which extent does our environment dictate whom we become?
This question keeps popping up in her studies at ArtEZ Academy of the Arts, where it takes different shapes and forms in her work.
Eline works as a production assistant for Watershed, where she helps organize the yearly summer program Camp Cushy and other literary events. Her biggest dream is to own a place that is a bookstore, cafe, gallery and theatre all in one, functioning as a safe space for writers, creators and anybody who is looking for a place to belong.